World première in coatings
A. Monforts Textilmaschinen GmbH & Co. KG responds to new market requirements with an efficiency-enhancing innovation. Monforts Chief Technologist Tolksdorf: "No new development without ecology-plus".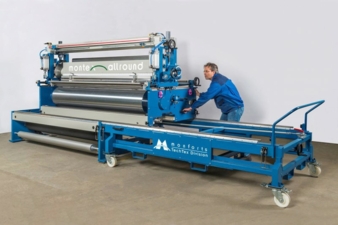 The classic phrase "mass production" hardly has any meaning for technical textiles any more. As systems are constantly having to be adjusted and adapted to meet various requirements, exceptional flexibility and sophisticated design engineering principles are needed. A. Monforts Textilmaschinen GmbH & Co. KG responds to these new market requirements with an efficiency-enhancing innovation. Its modular coating system is the only one of its kind in the world. Technology Head Peter Tolksdorf answered questions about it:
Peter Tolksdorf: Yes, that is unusual, because it often takes years to get from the idea to market approval. Everything happened faster with the "Montex-Allround" modular coating unit. The idea was born in 2012, the prototype was unveiled in Asia in 2014, and the machine itself will make its European début at the Techtextil trade fair in Frankfurt at the beginning of May. One machine has already been sold to a customer in Bangladesh; customer interest in being able to coat technical textiles with maximum flexibility is enormous.
Peter Tolksdorf: It is based on intelligent automation and is of completely new design. There is no modular system like it on the market. Our unit is an integral component of the stenter frame. The remarkable thing about it is its two-part construction with a permanently installed lower section and a modular upper section, which can be replaced very quickly according to the intended application. At the same time, the modules for knife and slot die coating and for flexo, gravure and rotary screen printing are variable. This means that machines with this equipment are extraordinarily versatile. Entire modules can be swapped out in a few minutes. The stenter frame is back in operation after a very short tooling time. Another bonus for effectiveness comes from the fact that the time-consuming cleaning of modules can be performed outside of the stenter frame.
Peter Tolksdorf: Previously, the user had do decide on a quite specific coating system when making the investment decision. Application Y could be bought for price X. But that is history now. With "Montex-Allround", he only needs to decide on a stenter frame, and with this he buys the option to choose from the modules that are required in each case. Moreover, the system is constantly being developed further. Subsequent upgrading with special modules can be arranged without difficulty.
Peter Tolksdorf: Requirements profiles are changing constantly for technical textiles, and increasingly for traditional textiles as well. So flexibility is of the essence. In the systems of the future, the automation process must be designed in such a way that a many parameters as possible can be processed with a single equipment configuration and rapid retooling options. Our Montex Allround makes that possible. It is all the same whether a coating has to be applied to fire brigade uniforms or medical filters: where two systems were needed before, now and in future the job can be done with one. Monforts has always shown in the past, as with the Montex Twin Air System, or now with the Montex-Allround, that such developments lead the world. That should and will not change.
At ITMA Monforts will appear with new coating solutions for technical textiles and will exhibit machine components for exhaust air treatment and odour prevention, above all, with the Asian market in mind.
[Hans-Werner Oertel]