15/07/2021 –
Fight against plastic waste
— auf Deutsch lesen
Lenzing supports EU guideline
Lenzing welcomes the uniform labelling obligation for wipes and feminine hygiene products containing plastics, which has been in effect since July 3, 2021.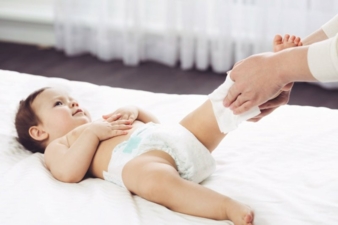 The Commission implementing regulation (EU) 2020/2151 applying to the Single-Use Plastics Directive stipulate uniform labelling requirements for some of the single-use plastic products on the packaging or the product itself starting on July 3, 2021. They encompass feminine hygiene products and wet wipes for personal and household care containing plastic.
The Lenzing Group welcomes the issuance of the guidelines for the implementation of the Single-Use Plastics Directive (EU) 2019/904, which took effect on June 5, 2019*. In these guidelines, the EU Commission specifies which products fall within the scope of the directive, thus providing clarity in the joint fight of the EU member states against environmental pollution from plastic waste.
Robert van de Kerkhof, Managing Board, Lenzing Group:
"Pollution of the environment – especially marine pollution – is one of the biggest problems of our time. For this reason, we welcome the measures taken by the EU to reduce certain single-use plastic products and the transition to closed-loop models. Lenzing has been investing in the development of sustainable and innovative solutions for the textile and nonwovens industry for many years and will also continue in the future to intensively work on achieving systemic change towards a circular economy."
A sustainable alternative
A Marketagent survey carried out in German-speaking Europe in October 2019** concluded that nine out of ten consumers would immediately change their purchasing behavior for wipes if they found out that their current product contains plastic. This would seem to imply that new market dynamics will emerge once the labelling rules for single-use plastic products takes effect.
Lenzing gives consumers clear guidance in their purchasing decisions. Products bearing the Veocel brand logo on their packaging are produced in line with stringent certification criteria. As a consequence, consumers can be assured that the products contain biodegradable, cellulosic materials.
Lenzing's wood-based, biodegradable cellulosic fibers such as those of the Veocel brand comprise a sustainable and innovative alternative.
#ItsInOurHands
On the basis of its environmental initiative #ItsInOurHands, Lenzing has been supporting a movement since the end of 2019 in collaboration with its partners to create enhanced awareness and transparency for materials used in wet wipes. An online platform as well as a dedicated community strive to increase awareness on the part of producers and consumers and thus push ahead with the development of sustainable alternatives.
*Directive (EU) 2019/904 of the European Parliament and of the Council of 5 June 2019 on the reduction of the impact of certain plastic products on the environment
**Representative Marketagent Online survey, n = 1,005 (14 - 69 years old, from Austria and Germany). itsinourhands.com