12/08/2020 –
FACT – FAshion Community Talk
— auf Deutsch lesen
Topic: Insights from the international manufacturing community
Matthijs Crietee, Secretary General of IAF, talks about the Corona crises and explains the current strategy for networking the fashion industry.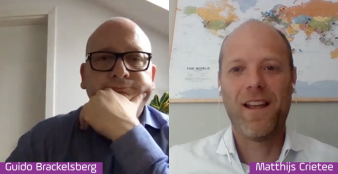 What is FACT?
The Fashion Community Talk is a video series in which we want to gather daily updated opinions from experts from the textile value chain and share them with the fashion community. According to the DTB motto "from practitioners for practitioners".
Why was FACT brought into being?
- The Corona Pandemic has created the biggest crisis in textile value chains we have ever experienced,
- with Dramatic effects on all market participants from suppliers to retailers.
- Very dynamic developments with an open end. Change will remain the only constant.
- This creates great uncertainty and an enormous need for information.
- Personal contact with colleagues and business partners is also severely limited due to social distancing.
The goals
- Sharing knowledge
- Exchange views
- Discuss problems
- Jointly showing solutions
- Creating confidence in the textile future
Who is behind FACT?
FACT is a joint initiative of Dialog Textil Bekleidung and Setlog, it is supported by DTB member companies and network partners, who support their expertise as interview partners.
The series is moderated by Guido Brackelsberg, Managing Director of Setlog and Board Member of DTB.
Questions that are being answered:
IAF spoke about "supply chain solidarity". What do you mean by that?
What can a global federation such as IAF do about such a global industry crisis as created by Covid 19?
What do you see happening in the apparel supply chain in the coming six months?
Interview Booking: Insights from the international manufacturing community
Company: IAF International Apparel Federation
Interview partner: Matthijs Crietee, Secretary General IAF