203 new colors uniquely curated for polyester materials
Pantone Introduces Polyester Standards, Expanding its Fashion, Home + Interiors Color Management System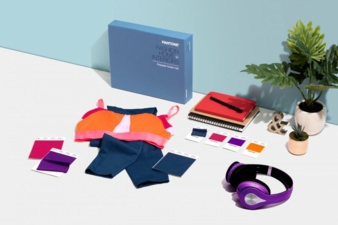 Pantone LLC, provider of professional color standards for the design industry, introduces polyester standards ideal for athleisure, footwear, swimwear, sleepwear and the home and fashion accessories markets, as an addition to its Fashion, Home + Interiors System.
Dyed on 100% warp knit polyester, these products can be effectively used for color management in polyester, poly-blends and other synthetic materials.
Pantone Polyester Swatch Set
The new Pantone Polyester Swatch Set is composed of 203 new colors, ranging from timeless neutrals to eye-popping neons, that are not available in the existing cotton library and cannot be reproduced in cotton with the same degree of clarity or intensity.
Laurie Pressman, Vice-President, Pantone Color Institute
"In today's culture where color plays an important part in our visual identity, we see an increasing desire for more saturated colors that help us stand out; colors beyond those formulated for natural fibers; colors whose appearance displays greater hue intensity. Our new polyester offering addresses this demand for a deeper level of coloration, resulting in a comprehensive mix of colors relevant across design industries including all fashion- and lifestyle-driven markets, as well as home furnishings."
The polyester standards are available in three formats
Intended to complement the existing Fashion, Home + Interiors system, the polyester standards are available in three formats.
Polyester Swatch Set: a convenient storage case for all 203 colors in new 2x2" removable swatches for color selection and palette development
 Polyester Swatch Cards: individual colors in 4"x4" swatches that unfold to 4"x8" for optimal color visualization, specification and instrumental evaluation
 Polyester Spectral Data: exact dye recipes for each color to help expedite achieving color intent in production
Adrián Fernández, Vice President and General Manager of Pantone
 "We recognize that designers working in synthetic materials face increased color management challenges due to the inability to achieve more vibrant and saturated colors in these materials compared to traditional cotton standards. The addition of standards specifically for polyester materials is intended to satisfy this gap in the market, combining our technical expertise with the color intelligence of the Pantone Color Institute, to offer our globally-renowned methods of standardization to rapidly growing segments."