11/07/2022 –
Neonyt 2022
All under the sign of sustainable fashion, design and art
Parallel to the three trade fairs for textile materials, home textiles and technology solutions, the city on the river Main again presented its Frankfurt Fashion Week.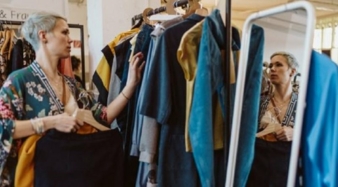 After pandemic restraint with the previous minimal edition this time a veritable fireworks display of over 100 events had been offered under the Frankfurt Fashion Week umbrella brand: From June 20 to 26, 2022, fashion shows, talks, exhibitions, presentations and open studios invited interested visitors to explore and experience fashion and everything related to sustainable design. At the same time, the Frankfurt Fashion Week is a marketing platform for the regional fashion and design scene as well as cultural and creative industries.
The FFW is coordinated by the Frankfurt Economic Development GmbH on behalf of the City of Frankfurt "to establish Frankfurt Fashion Week as a distinctive Frankfurt-style event," said Economic Affairs Officer Stephanie Wüst.
Messe Frankfurt had docked with Frankfurt Fashion Week and made its Neonyt Lab, this time held from June 24 to 26, a home play by transferring the event from its former venue in Berlin to Frankfurt/Main. In a mix of conference and exhibition Neonyt Lab is dedicated entirely to the broad range of topics around sustainable fashion and addresses both, fashion professionals as well as consumers .