05/05/2022 –
Reality check for virtual dressing
Mega deal: Presize start-up owned by Meta now
April 18, 2022, the Facebook Corporation Meta Platform Inc. announced the 100% takeover of Munich-based startup Presize – an article by Yvonne Heinen-Foudeh.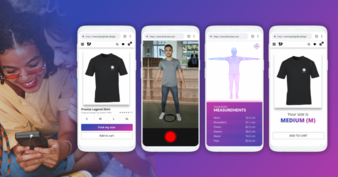 Back in March 2021 the developers of the photo app Snap chat acquired the Berlin-based software developer Fit Analytics. The German start up uses consumer surveys on body measurements, cut and fabric to calculate the best-fitting size for individual consumers. Snap Inc. relies heavily on AR, augmented reality, in which digital objects on the screen are integrated into the real environment.
And now this: April 18, the Facebook Corporation Meta Platform Inc. announced the 100% takeover for the Munich-based startup Presize. Its founders, three computer scientists, have taken up the subject to the next level. Their body-scanning software for smartphones measures body dimensions and, using smart algorithms, comes closest to the correct clothing size – or to a completely individualized pattern design.
For both tech companies from Silicon Valley, those acquisitions undoubtedly represent another step in the direction of e-commerce. And yet much more. Sizing remains one of the key challenges in fashion e-commerce and for all kind of on-demand business models. For the European markets studies clearly indicate with fashion, sportswear, in fact all kind of garments not satisfactory fit to cause something between 35% to 55% of returns with online shopping and that for all age groups. Similar figures were collected for reasoning by consumers – in particular but not only female ones – leaving stationary retail without purchasing a piece of garment or an outfit.
Directly linked to this: the problem of indeterminate mass production for apparel, of which it is proven that no more than 60% is ever worn. This makes sizing technologies the key to more sustainability in textiles and clothing as it enables avoidance for waste of resources, energy and water as well as absolutely superfluous emissions if the overproduction is burned at the end, which is partly quite common practice. – What an opportunity for Facebook to take its responsibility.
On the further planning, Leon Szeli's and his two co-founders, Awais Shafique (CPO) and Tomislav Tomov (CTO), future roles with the new Meta configuration and the meanwhile about 40 employees of the LLC, the coat of silence is shrouded at this early stage. Just as about the actual acquisition fee nothing was to be learned.
textile network met with Presize co-founder and CEO Leon Szeli in Munich, Germany, – to talk about technology, trends and Tik Tok. Read the interview here.