07/09/2020 –
Turning challenges into opportunities
— auf Deutsch lesen
Mask production in the age of Corona – a global view
Many Asian textile and garment suppliers are manufacturing textile masks to meet the robust global demand for masks and protective gowns.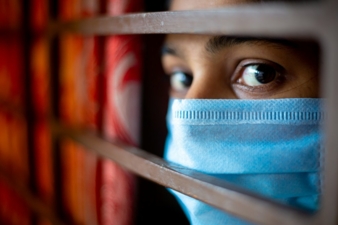 Amid the Covid-19 disruptions that have caused a decline in demand for textile and apparel, many Asian textile and garment suppliers are manufacturing textile masks to meet the robust global demand for masks and protective gowns.
A view of Pakistan
Ahmed Jahangir, the executive director of Nishat Textile Mills, headquartered in Karachi, Pakistan, recently told the media that his company had started to ship masks. Indeed, as one Pakistani industry analyst told the Textile-Network, Nishat Mills will probably never give up production of masks in the future even after the coronavirus is over. "Demand for textile masks worldwide will continue even after the pandemic is over," he said. Nishat Mills has received good orders for a wide range of textile masks from U.S. and European buyers. Indeed, production of textile masks is proving to be a lucrative business due to the strong global demand for such products. Pakistani apparel manufacturers, hit by falling demand for clothing, were quick to see the business inherent in production of masks. Pakistan's garment manufacturers reportedly lost between 20 and 35 percent of the garment business during the pandemic.
A view of Bangladesh
Similarly, textile and garment manufacturers in Bangladesh have also been resorting to manufacturing masks and producing personal protective equipment (PPE) garments. Beximco Textiles Ltd which produces PPE products in Savar, near Dhaka, is one such company which resorted to PPE manufacturing in February. According to its chief executive Syed Naved Husain, Beximco exported some 6.5 million medical gowns to U.S. brand Hanes; it expects its PPE exports to touch some 250 million US-Dollar this year.
Khan Monirul Alam Shuvo, the spokesman of the Bangladesh Garment Manufacturers' and Exporters' Association (BGMEA), told journalists that while there had been some recovery in incoming garment orders after a sharp decline in demand, the volume of orders received for garments was much lower than the level of orders received last year. In June, Bangladesh's factories were operating at 55 percent of their capacity. More than 30 factories today produce PPE products in Bangladesh. Indeed, Fakir Apparels, a Bangladesh apparel-producing company, has been receiving good orders for surgical gowns, prompting the company to quickly upgrade its production operations for this product category. Fakir has converted five of its factories into PPE-manufacturing plants, employing an additional 400 workers, and expecting to export 200 million US-Dollar worth this year. Bangladesh experts say that their country could become a new hub for PPE manufacturing.
A view of India
India is also racing ahead in the global PPE supplies after, initially, imposing an export ban on such products. However, India has relaxed the ban and fixed its export quota at about 5 million units per month. However, an exporter would have to obtain an export license from the government for shipments of such products. While welcoming the government's decision, the chairman of the Apparel Export Promotion Council of India (AEPC), A Sakthivel, said the government should also allow export of N95 masks, which are still banned from export. A Dallas, Texas-based textiles company, Nextt Affiliated, had supplied more than 35 million pieces of PPE to hospitals, school districts and government agencies across the U.S. through its newly-created division Nextt Shield. Nextt, known for its sheets, bedding and towels, also produces hand-sanitizer gloves, face masks, face shields, etc. It produces isolation gowns at its factory in India and operates a distribution center in Dallas.
Floating factories
Turkey, which has also been eyeing the lucrative business for masks and PPE products, has gone one step further: it has hit upon the novel idea of refurbishing three ships to produce hundreds of millions of face masks during transoceanic sea voyages.
Ships cost less than a conventional factory because the former were lying idle thanks to the pandemic. Moreover, by placing 100 machines in a ship, productivity is higher than in a factory in terms of time and protection, the proponents of such "floating factories" argue.
A&S Holding, for example, founded a protective gear factory, named Global Mask in 28 days and received large orders, including from the U.S. from where the volume of each order ranged from 100 to 150 million masks. Because it would take over two weeks to manufacture 100 million masks, and another month to ship these to America, the Turkish exporting company hit upon the idea of creating "floating factories" which also cut down delivery time considerably. Each ship will offload at least 500 million face masks and 10 million protective suits at ports in North and South America, according to Turkish sources.
A view of Taiwan
The coronavirus pandemic has also prompted Taiwan's machine-tool industry to become innovative and offer machine-tool products for manufacturing surgical masks for which there is good demand worldwide. By end January, Taiwan's government had approved a proposal to build 60 assembly lines to produce 6 million surgical masks a day, with plans to increase daily production to 10 million. Building 60 assembly lines in Taiwan, which has a shortage of workers, has been a daunting task. Thus, in February, the Taiwan Machine Tool and Accessory Builders' Association (TMBA) urged its members to help out, starting with the creation of the first troop of the "national team" in just five days, followed by other companies to help Taiwan's mask equipment manufacturers. Relying on their expertise of over 40 years, the island's machine-tool manufacturers joined hands to help the mask-production equipment manufacturers cut down their production time. The 60 production lines, which would normally take four to six months, were set up in just 25 days. But Taiwan's government set for itself an even more ambitious goal: an additional 32 mask-production lines were set up by March 20 ahead of the schedule. With a total of 92 production lines, the manufacturers were able to increase their daily mask production to 13 million masks by early April.