11/10/2019 –
Trend Collection Materialization
— auf Deutsch lesen
New ways by Stoll
Stoll broke new ground in design, materials and processing and faced the challenge of using difficult-to-knit materials.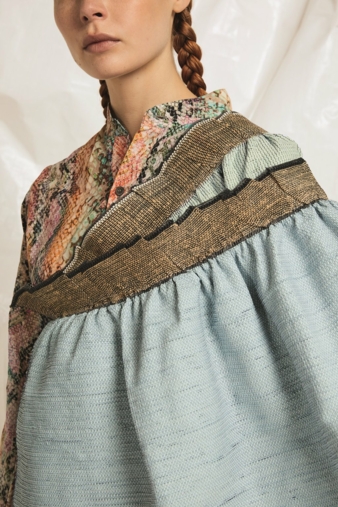 The collection was first exhibited at Itma Barcelona this past June and at SpinExpo in Shanghai in September of this year. Stoll mainly used the Stoll ADF technology, but other machine types were still utilized to demonstrate the versatility of Stoll machines and technology.
Highlights of the collection
The new ADF 830-24 ki knit and wear combines many knitting techniques such as reverse plating, Stoll-weave-in, and Stoll-ikat plating – not previously possible in the field of knit and wear. In this collection, unusual yarns or materials were processed for the flat knitting sector. For example, cut plastic foil was used as well as polypropylene tapes from the food industry. Ribbon yarns tend to spin in the knitting process. The special unwinder used bypassed this problem, and Stoll was able to achieve the desired effects.