More light than darkness
The textile industry is one of the most innovative sectors. Techtextil/Texprocess in May would have shown this once again. by Michael Jänecke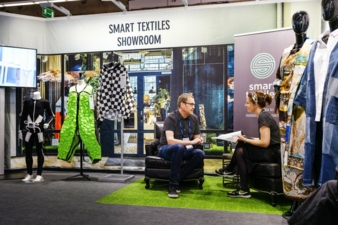 The cancellation of leading trade fairs Techtextil and Texprocess, stagnating exports, declining order levels, reduced working hours – the list of bad tidings from the textile and textile processing industry is long. In the current climate, it is all too easy to forget that the textile industry is, in fact, one of the most innovative industries in the world. Had they gone ahead in May, Techtextil and Texprocess in Frankfurt am Main would have reminded us of the industry's ingenuity and innovative prowes.
Let's look at the bad news first: The textile industry is currently in a serious condition. This, of course, is true of many other sectors, too. Since the coronavirus pandemic reared its ugly head, industries around the world have been facing unprecedented challenges that are uncharted territory for everyone concerned.
Current figures from the Confederation of the German Textile and Fashion Industry (textil+mode) reveal that the textile industry suffered an 11.4 per cent slump in turnover in 2020. Witnessing a 6.7 per cent drop, the textile sector was not as badly affected as the apparel sector which was dealt the hefty blow of a 19 per cent decline. The shrinking demand for textiles can be explained, among others, by the huge losses suffered by automotive suppliers. By contrast, the manufacturers of nonwovens and home textiles have experienced a lift in sales. With the exception of exports to China, export volumes have likewise fallen. Not surprisingly, the economic downturn is having an impact on employment in the industry. The German textile industry shed an average of 4.4 per cent of its workforce, rising to 8.7 per cent in the apparel sector. More jobs are expected to be axed in 2021.[1]
As the coronavirus spread, domestic demand for cars, fashion and footwear dipped. Any changes in demand for these products naturally have a direct impact on the order levels of Germany's sewing and apparel machinery makers. Compared with the year before, manufacturers of sewing, apparel, footwear and leather goods machinery as well as laundry and washing technology plummeted by almost a quarter from January to July 2020, with orders and exports faltering.[2]
Technical textiles: Bringers of hope and sales
Nevertheless, there is cause for optimism. Manufacturers of nonwovens and home textiles witnessed a rise in sales in 2020. Technical textiles are already on the road to recovery and are helping the textile industry look to the future positively. This, of course, is an area in which Germany displays great strength. Indeed, this is supported by the recent Bloomberg report which revealed that Germany ranked first in the Innovation Index in 2020 – before South Korea and Singapore.[3]
There are many examples of Germany's innovative spirit in the field of technical textiles and textile processing. Here are just a few:
Ibena Textilwerke GmbH in Bocholt, which makes protective clothing for firefighters, rescue services, and the police, recently collaborated with fire safety and prevention consultant Gelkoh, based in Hamm, Germany, and the PPE Factory in the Netherlands, which makes PPE from specialist textiles. The result of their endeavours is an innovative fire blanket for hybrid and electric vehicles. Compared to diesel and petrol-driven vehicles, fires in electric and hybrid cars are harder to put out using conventional firefighting methods.

HPS, which specialises in industrial space structures, the Fraunhofer Application Centre for Textile Fibre Ceramics and other partners are working on a textile space antenna made with carbon fibre reinforced plastic (CFRP) and gold-coated tungsten. More and more satellites are observing the weather for us, recording climate changes and ensuring that navigation systems work, that we can shop on the internet or binge-watch a new series on TV. As the amount of data increases, larger and more powerful space antennae are needed.

As far as sewing and garment technology manufacturers are concerned, German companies are using their innovative prowess to power through the crisis or even to grow. Veit, a textile care specialist, started producing hands-free door openers and air cleaners for offices, restaurants, and doctors' surgeries shortly after the outbreak of the pandemic to reduce viral loads.

Vetron, a specialist in industrial sewing machines based in Kaiserslautern, switched part of its production to ultrasonic and hot-air welding machines for the manufacture of protective clothing and respiratory masks. Even though these companies have not been able to completely make up for losses in turnover, they are certainly testimony to the resilience and innovative spirit of Germany's industrial landscape.
Tentative opening abroad
It is now worth casting our view to the wider world, where Techtextil and Texprocess have offshoots: With the industry's potential firmly in its sights, Techtextil India is opening its doors from 1–3 September 2021 and is introducing a hybrid exhibition format. In September 2020, India's government launched the National Technical Textile Mission and is providing its domestic technical textile industry with around US$ 280m in funding.
Following its success in September 2020, Cinte Techtextil China will be running from 22–24 June 2021 in both a digital and physical format in Shanghai. Starting with this year's edition, Cinte Techtextil China will now be staged once a year rather than every other year as was previously the case. This decision was triggered by growing global demand for medical and hygiene products, China's economic growth and its high domestic demand.
The next Techtextil and Texprocess, leading international trade fairs for technical textiles and nonwovens and the processing of textile and flexible materials, will be held in Frankfurt am Main from 22–24 June 2022. The postponement until 2022 will see both fairs permanently switch to even years. New dates have already been set for 9–12 April 2024.
[1] Economic report by textil+mode, based on figures from destatis in December 2020

[2] Texprocess blog "And then came the coronavirus…"; figures based on VDMA Textile Care, Fabric and Leather Technologies

[3] https://www.bloomberg.com/news/articles/2020-01-18/germany-breaks-korea-s-six-year-streak-as-most-innovative-nation