20/04/2022 –
Interview with Michael Ryan
Fespa Global Print Expo: A decade of change
One of the largest and most important events for the specialty printing industry will take place in June at Messe Berlin: The Fespa Global Print Expo. textile network spoke with Head Of Global Development and Fespa Global Print Expo, Ryan Michael, about what exactly await the visitors and what is currently moving the printing industry.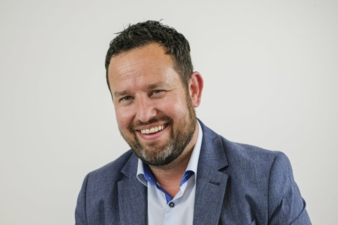 textile network: What will be the focus of the Fespa Global Print Expo 2022 in Berlin?
Michael Ryan: The strapline for this year's event – 'Experience Print in Motion' – perfectly encapsulates our focus. We believe it's time to look to the future and explore new opportunities that exist for speciality printers. And what better place to do that than at Fespa's international event in Berlin. 
As this edition of textile network goes to press in March 2022, over 250 supplier brands are already committed to exhibiting and many are already signalling that Berlin will be a key launch platform for them in 2022.
As always, the event will highlight the latest developments in digital wide format, textile and screen printing technologies, media and consumables. There will also be a strong emphasis on trends such as sustainability, web-to-print and automation, which are driving change across the speciality printing community.
textile network: Could you tell me more about the trends in textile printing? What's in store for the printing industry over the next decade?
Michael Ryan: Consumers are increasingly looking for ethical, sustainable and responsible production. As a result, the industry faces a decade of change and multiple growth opportunities are opening up for textile printers.
Across all verticals within the textile industry, this seismic shift towards more sustainable processes is having a significant impact. We're seeing that the rate of adoption for digital textile printing technologies and software in traditional manufacturing operations is accelerating significantly. The driving factor for this is the trend to on-demand production, which will continue to disrupt the market.
textile network: What presentations or activities are planned at the Fespa Global Print Expo in Berlin?
Michael Ryan: Our new 'Sustainability Spotlight' feature, comprising conference sessions with industry experts and an application gallery to inspire visitors on sustainable best-practice, is a 'must-see' for any speciality print business. Printeriors will also return to Fespa 2022, inspiring visitors with an exciting showcase of textiles, wallcoverings, furnishings, flooring, fine art, lighting and interior décor accessories produced in conjunction with print industry partners.
textile network: Mr. Ryan, thank you very much for the interview!
The questions were asked by Sibylle Michel on behalf of textile network.