23/07/2019 –
Sustainable solutions for industrial digital textile printing
— auf Deutsch lesen
Kornit Digital
Commercial availability of the new Kornit Presto, the world's only industrial single-step solution for direct-to-fabric printing.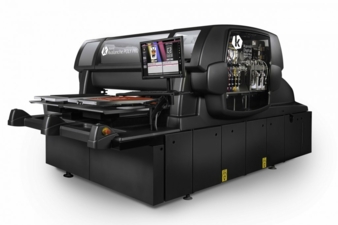 Driven by mega-trends, brands and retailers seek to connect with consumers, and are adapting their supply chains accordingly, paving the way to digital textile printing. The mega-trends driving for change are: personal expression in the social media era; an e-commerce environment of endless choices; and a strong sustainability imperative.
Ronen Samuel, CEO, Kornit Digital:
"We work closely with the world's leading brands to support their business innovation strategies. Kornit's technologies enable unlimited design creativity, faster turnaround times and sustainable production."
Fastest and most sustainable way to print on textile
The new Kornit Presto addresses the supply chain challenge head on. It is the world's only industrial single-step solution for direct-to-fabric printing. The system is perfectly suited for the home décor and fashion markets. It eliminates the need for pre and post treatment of fabric and allows for high-quality printing on an extraordinarily broad variety of fabric types. The Kornit Presto solution uses the 100 percent water-free patented NeoPigment process, and is the shortest process from file to finished product, making it the most environmentally friendly solution available for direct-to-fabric textile printing today.
A cloud-based software analytics platform
Kornit Konnect is a cloud-based software analytics platform that enables businesses to monitor production, analyse insights and manage their fleet, to eliminate blind spots. It includes a fleet management dashboard, data-driven benchmarks, actual production costs, and cost structures per job, making it easy for businesses to learn more, react faster and perform better.
Omer Kulka, VP Marketing & Product Strategy at Kornit Digital:
"While businesses need to deliver high quality, faster than ever, to maintain customer loyalty, they are also challenged to maximize their efficiency and productivity. Konnect empowers these businesses to make better-informed production decisions, with greater visibility and control over their operations. Kornit plans to enhance this cloud-based platform frequently with new features as part of our innovation strategy."