08/03/2021 –
Anish India Exports and Jeanologia
— auf Deutsch lesen
World Women's Day: the world's first 100 percent sustainable garment finishing plant led by women only
8th March is International Women's Day. The theme: "Women in Leadership: Achieving an equal future in a Covid-19 world." One flagship project is located in India.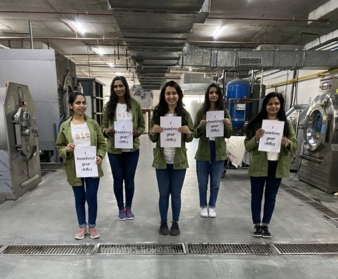 Jeanologia, world leader in sustainable and efficient technology development, and Anish India Exports (AIE), an innovative apparel manufacturer company, launch the world's first sustainable and zero waste garment finishing plant 100 percent women driven and managed. Jeanologia and AIE have been working together for 21 years to transform the industry and turn Indian textile industry into one of the most advanced and clean of the planet. AIE's goal is to enable and empower women across the company. As a result, the first step towards that goal was to make AIE's sustainable laundry 5.Zero plant. This innovative project contributes to a double challenge, transforming the country's apparel industry, and provide equal work opportunities to women. India contributes to a large proportion of the world's textile and apparel industry and women account 60 percent of its workforce. They are often underrepresented in jobs and leadership positions in their workplaces and communities and are not recognized.
8th March 2021 is the hallmark of World Women's Day, at AIE and Jeanologia where both organizations are meeting and celebrating colossal goals that they set as part of their vision towards 2025.
With this operational center, both companies place women and India at the core of zero discharge production.
Anish India Exports and Jeanologia launch the world's first 100 percent sustainable garment finishing plant led by women.
AIE laundry 5.Zero is the first eco-efficient operational Center fully women driven and managed.
This innovative project contributes to a double challenge, transform the country's textile industry, and support woman in access to a job in equal conditions.
This plant guarantees zero discharge and 85% water savings, helping to achieve Mission Zero goal: dehydrate and detoxify the denim industry by 2025.
For AIE create an equitable and gender equal work environment and increase the women workforce ratio to 50 percent across the business is a priority.
Ishita Tandon, the responsible for leading the AIE's Laundry:
"Our goal is that diversity in leadership is not only healthy for the business, but also that women can show their full creative potential and empower them throughout the company. In our smart factories, our aim is to consistently manufacture and supply apparel that meets the contractual requirements of quality and safety, delivered on time. All manufacturing is in-house and follows stringent quality controls at every stage. Women are rising up in India, and this kind of projects contribute to embrace these challenges. We are convinced that small actions can make big changes, and a sustainable garment plant leading by women in India is the best way to start it."
Ishita Tandon is known to be a leader with a soul who is passionate about sustainability practices and is working tirelessly towards AIE's inclusive development. Ishita's fervour for garment washes and laundry has made her the brand ambassador for women leadership in India and her laundry goal of (EIM – Environment impact measurement) is to always remain in the low impact zone of 0-33.
The first step towards this goal has been to set up a finishing plant, together with Jeanologia. For Jeanologia, people and the planet come first, the company is not only committed to the environment, but also to society, collaborating on various social projects in which it believes can make a real change.
Carmen Silla, Marketing Director at Jeanologia:
"We believe in Business as a force for good. Our technologies create an ethical, sustainable, and eco-efficient blue jeans industry and we found in AIE the perfect match on this transformation journey. Together we formed a great team. Anish Export inspires us to improve. We've developed Laundry 5.Zero that eliminate waste and reduce water and toxicity from the jeans production process and AIE is implementing it by using it in mass production, making it real and creating a better world. We are proud to be Anish Export technological partner."
AIE Laundry 5.Zero 100 percent Women driven powered by Jeanologia.
AIE Laundry 5.Zero is the first garment finishing plant that combines Jeanologia' s technology guaranteeing zero discharge and obtaining 85 percent saving in water.
This operational center produces sustainably on an industrial scale by efficiently combining the technologies Laser, G2 ozone, e-Flow, Colorbox and the first water recycling system H2Zero; eliminating all the processes that are harmful for workers and the environment.
With Laundry 5.Zero AIE contributes to drive and lead the change in India, empowering women and establishing a new operational model that brings the industry into the digital era.
Since 1994 Jeanologia's mission has been to create an ethical, sustainable, and eco-efficient industry through their disruptive technology and know-how. Their laser, G2 ozone, e-flow, Smart Boxes and H2Zero, have revolutionized the textile industry. They offer infinite design and garment finishing possibilities, while saving water, energy, and chemicals, eliminating discharge and toxic emissions. Over 35 percent of the 5 billion of jeans produced worldwide every year are made with their technologies, and the biggest market brands place their trust in Jeanologia, using technology developed by the company.