Alcantara as common denominator of Hybrids
Alcantara has been chosen by the Builders who presented their hybrid models in Paris. The material offers undoubted technical and aesthetic advantages.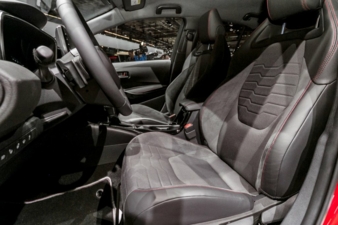 At the Motor Show in Paris, which took place from 2 to 14 October 2018, world premieres were to be admired in all vehicle categories. These include the approximately 300 hp Mercedes-AMG A 35, the Toyota Corolla, Hyundai i30 Fastback N, Skoda Kodiaq RS, the new Audi SQ2, Q3 and A1, electric SUV and the Audi E-tron. It became clear that the interior is becoming more and more the decisive decision criterion for a vehicle model.
Alcantara in the interior
Lightness is a quality increasingly sought after by designers who must take into account the technical design needs that require a continuous search for solutions and materials for weight reduction, which is equivalent to improving the efficiency of the engines, both for environmental reasons and purely in terms of performance.
Alcantara allows a reduction in weight to two-digit percentiles compared to other materials, without sacrificing comfort, design, elegance and creative stylistic solutions that only this material can guarantee. The aspect of environmental impact has become a priority issue for all vehicle manufacturers. Alcantara has offered a certified response since 2009 with its environmental sustainability report on the subject. Alcantara is carbon neutral and was one of the first companies in the world to obtain this certification.
An almost infinite palette of colours, tailoring, laser stitching and cuts, perforations and combinations with leather and fabrics make each interior different, thus guaranteeing the new model exclusive identifying characteristics.
Peugeot has chosen a two-tone interior in shades of gray for the 508 Hybryd, the 508 Hybryd SW, and the 308 Hybryd.
The central part of the seat is in very light mélange gray Alcantara, partly worked in colour-coded rhombuses.
The headrest, the external part and the seat side panels are in dark gray leather with contrast stitching in the same color as the Alcantara used for the central part of the seat, whose design is completed by a central strip in dark gray leather.
Audi adds a touch of elegance and perceived luxury and for the E-Tron chooses a plain Alcantara in neutral shades of smoky gray for the door panels. While the Q3 turns to an unusual orange for the exterior that is reflected in the details in interior Alcantara that enhance the lines and volumes of the armrest, the door and the central part of the dashboard.
The Toyota Corolla with Dual Hybrid - Electric technology presented in Paris chooses gray colour Alcantara matched with gray fabric and leather, all embellished with red stitching.