Cifra presents the Thermo Project
In Munich the company Cifra presents the Thermo Project with infrared rays and Thermolite.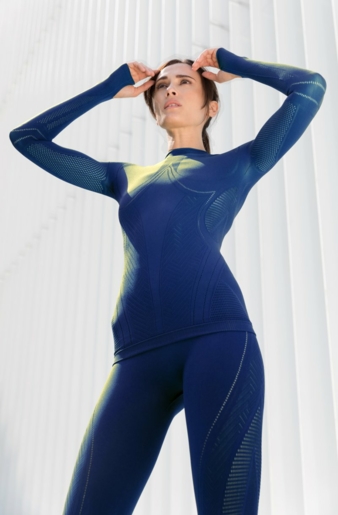 After a period of meticulous planning and advanced tweaking, Cifra presents the Thermo project at Ispo, destined to blaze a new trail in the winter sports sector and in the area of body heat management.
This collection includes experimental items of clothing made with WKS technology, internationally patented by Cifra, with Thermolite yarn and Emana yarn. This special combination makes it possible to obtain lightweight, insulated items that are easy to dry, guaranteeing constant warmth regardless of whatever the outside temperature may be, for greater comfort during physical exertion. In addition to this, the technical support of Emana allows for the absorption of heat produced by the human body (thanks to the minerals contained in the fiber) to be released back into the skin in the form of far infrared rays, but it also stimulates blood micro-circulation and is instrumental in improving performance in sport activities, thereby accelerating muscle recovery and, ultimately, ensuring comfort and well-being.
The green attitude project
On the eco-sustainability front, which Cifra has always been a key player of, the Green Attitude project continues with the Zero Waste commitment (in warp seamless all the yarn is transformed into a product, whereas in traditional fabric the waste is somewhere between 15 to 30%) with an ever increasing use of ecological and regenerated yarns, such as Econyl by Aquafil or QNova by Fulgar.
Econyl by Acquafil is a Nylon 6 which is made with 100% completely regenerated waste materials, otherwise destined to end up in landfills or in the sea. It is, to be exact, a nylon thread originating from recovered plastic materials: fishing nets, nylon household carpets, industrial plastic waste, and textile waste used by the textile industry that is recovered and regenerated through a complex break down process.
In addition, Cifra uses a blend of elastomer which is also recycled and able to be broken down without the release of any harmful substances into the environment.
Q-Nova is a recycled and environmentally sustainable Nylon 6,6 fiber obtained exclusively from regenerated raw materials and produced by Fulgar based on the criteria and requirements dictated by modern traceability systems. Q-Nova® is made of waste materials coming from the company's main production cycle. There are no other ways materials such as these can be re-used; materials which would have to be disposed of externally as waste. Q-Nova® uses the innovative MCS process: a mechanical zero-regeneration, locally resourced system which does not require the use of chemical materials that would compromise the sustainability of the final product. Among some of the pluses are lightness, breathability, resistance, and reliability in colorfastness.
Cifra at ISPO Munich 2019
February 3/6th
Hall B3 – 112