29/08/2022 –
Apparel Manufacturing Hub
Made in Bangladesh Week
A week-long event from 12 to 18 November 2022 in Dhaka, Bangladesh, will showcase sustainability strides being made by Bangladesh garment makers.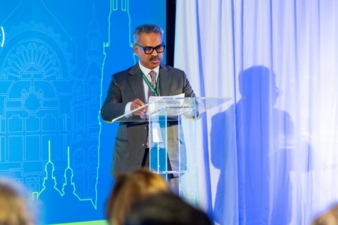 Made in Bangladesh Week is the first branding event of the Bangladesh Apparel Industry dedicated solely to celebrating and showcasing the groundbreaking, newest innovations, compliance, and sustainable developments of the RMG sector in the global market. The event aims to promote the apparel industry of Bangladesh locally and globally by showcasing the compelling stories of the ready-made garments sector, especially its impressive strides in the areas of workplace safety, environmental sustainability and workers' wellbeing. The event is expected to draw a gathering of more than a thousand people from home and abroad, including key stakeholders in the local and global fashion industry.
Bangladesh's garment manufacturing industry has undergone a renaissance in recent times. Significant strides have been made in technological innovation, eco-friendly production, worker welfare and factory safety. This transformation will be showcased to the world as journalists, policymakers, economists, trade bodies, embassies, and, of course, garment and textile manufacturers, gather in Dhaka. In addition to panels, seminars, awards, fashion shows and exhibitions, the week will also provide an opportunity for factory tours to give journalists and other stakeholders a chance to see for themselves innovative garment production in Bangladesh. The Honourable Prime Minister of Bangladesh, Sheikh Hasina, will inaugurate the first ever Made in Bangladesh Week in November.
A website of "Made in Bangladesh Week" has been launched.
The week-long event will include:
3rd Dhaka Apparel Summit
Dhaka Apparel Expo
Bangladesh Denim Expo
Fashion Innovation Runway Show
Award ceremonies including the Sustainability Leadership Award (TSL), the Sustainable Design and Innovation Award and Made in Bangladesh Photography Award
Global launch of the BGMEA Innovation Centre
Faruque Hassan, president of the BGMEA, said: "In recent years, we have undergone a massive transformation in workplace safety, environmental, sustainability and compliance issues. Our vision for the next decade is to pursue new areas of opportunity, growth, and excellence. Modernization, innovation, diversification and technological upgrade are vital, as we also prioritize the health, education and well-being of our workers. The apparel industry in Bangladeshis making significant strides toward sustainable manufacturing and continues to build a resilient ecosystem along the key stakeholders within the supply chain. We believe that sustainability is not only about fulfilling social, ecological and community obligations; it is also about building a strategic coalition among the broader stakeholders toward a sustainable, resilient, modern, fair and equitable supply chain."