27/01/2021 –
Sustainability: World Economic Forum
— auf Deutsch lesen
Denim expert Bangladesh becomes new sustainability champion
Denim Expert Limited, a niche denim manufacturing and washing plant of Bangladesh, was recognized as 'New Champion' by World Economic Forum in 2020.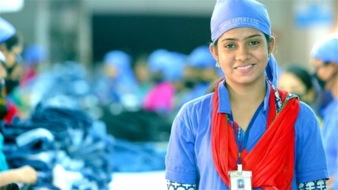 The New Champions Awards of World Economic Forum recognize excellence in sustainability, digital disruption and agile business governance. Denim Expert has been selected as 'Honorable Mention' in excellence in sustainability category.
It's the only apparel and textile entity in the world that received this prestigious recognition last year.
The declaration was made by World Economic Forum in an official announcement:
"In 2019, the firm set sustainable goals and targets across several areas including reducing consumption of energy and water, CO2 emissions, and waste generation. The firm is also working to provide opportunities to transgender people and human trafficking survivors."
Mostafiz Uddin, Managing Director of Denim Expert Limited:
"I believe this recognition to Denim Expert by World Economic Forum is an appreciation to the sustainable strides of Bangladesh apparel industry as a whole. I am proud for bringing this accolade for the country."
Bangladesh at present has the highest number of green garment factories in the world. Among the 27 industrial units of the world that atop the ten highest rated LEED green factories globally certified by the United States Green Building Council (USGBC), 14 are garment factories situated in Bangladesh.

Bangladesh is the second largest apparel exporting country in the world which shipped apparel worth USD 33.07 billion in 2019.

The apparel producing country has made significant improvements in safety standards and practicing sustainability in recent years.
Denim Expert Limited is a member of World Economic Forum. It's:
the first Bangladeshi manufacturer that joined the Sustainable Apparel Coalition (SAC)/Higg Index.

It's also the first Bangladeshi manufacturer to become a contributor to ZDHC Foundation which is driving improvement in the management of textile chemicals globally.

It's the first denim manufacturer from Bangladesh joined Fashion Industry Charter for Climate Action convened by the UNFCCC.

Denim Expert Limited is also the first Bangladeshi apparel factory that joined the Jeans Redesign program of Ellen MacArthur Foundation which employs the principles of a circular economy to ensure positive impacts for the environment, society, and the health of those people working in the industry.

The factory is member of International Apparel Federation (IAF), Ethical Trading Initiative (ETI), and Social & Labor Convergence Program (SLCP) too.