Munich Fabric Start gives a new impetus to the industry
At the winter edition of Munich Fabric Start, the predominant topics were material and colour trends for Spring/Summer 2024 as well as efficiency and transparency through digitalisation and sustainability.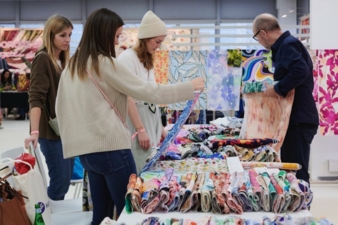 More than 14,000 visitors from 58 countries, especially from the DACH region, Benelux, Scandinavia, the UK and Turkey, came to the events organised by Munich Fabric Start Exhibitions GmbH at the MOC and the Zenith Areal for trend research, sourcing, and intensive exchange from January 24 to 26, 2023.
The frequency of visitors was about 20% below the level of the comparative show three years ago in January 2020. Due to the current economic situation in the market as a whole as well as limited travel activities, this was to be expected in advance and represents a satisfactory result from the organisers' point of view.
"Munich Fabric Start and Bluezone were well attended and we had days of intense conversations, game-changing business decisions, inspiration and innovation. Our conference programme with over 90 top-class speakers was more extensive than ever before. The interest in new developments, especially in the areas of digitalisation and sustainability, was extremely high and is now going much more into depth," says Sebastian Klinder, Managing Director Munich Fabric Start.
"Despite the current difficult economic market environment, the mood at Munich Fabric Start and Bluezone was one of curiosity and optimism. Business processes are definitely being critically questioned, but the companies have answers – through new product innovations, exciting new designs or through more efficient and more transparent processes," says Frank Junker, Partner & Creative Director der Munich Fabric Start.
Colour and material trends Spring/Summer 24
The colour and material trends for Spring/Summer 24 are divided into the four sub-themes "Team Players", "Global Manifestors", "Exposers" and "Nesters" under the leitmotif "Dare & Care". The colour worlds range from light natural tones and off-white to pastel, bright power colours and warm, reddish shades of purple and brown to black. The focus is on materials that evoke emotion on both a visual and tactile level – raw, robust and natural materials contrasted by shimmer, glitter, stretch and mesh. Styles range from sexy, sheer and tight, to classic suit looks, extreme wide cuts and workwear elements.
Firmly anchored in the trends is a new awareness of responsibility for people and planet, the central importance of craftsmanship to the textile industry, inclusive design and the use of innovative approaches where possible.
Under the leitmotif "Discovery", Bluezone invited all fashion people and denim experts to share moments together and discover and drive the latest highlights, innovations and changes in the industry. "Insta-Tok Life", "One by One Theory", "Modern Art Emporium" and "Low Tech No Tech" – this is how the trends cluster around topics influencing the denim world such as urban low-tech, art collabs, the colour and fit chaos of Gen Z and alpha consumers as well as inspiration from Instagram and Tik Tok.
Digital product creation for sustainable processes
A total of more than 30 hours of trend lectures, discussions and presentations with over 90 experts from such diverse international companies as Assyst, Bluesign, Bossa, DMI, Isko, Marc O'Polo, Pantone, Veit, and Vizoo provided inspiration and orientation. In addition to trend forecasts, it was in particular the complex of issues surrounding the ongoing transformative sustainability changes in the industry – key words: supply chain law, EU legislation, binding digital product passport, circularity – that were examined from the most diverse angles.
"The interest in 3D applications is huge – especially in connection with the goal of increasing sustainability and efficiency as well as a real implementation in the product. From the idea directly to th knitting machine, from the fabric sample directly to the model, from the brand vision directly into the brand communication with digital twins and avatars – this is what we brought to life at the Assyst Experience together with our partners," says Hans-Peter Hiemer, Managing Director der Assyst GmbH.
The processes of digital product creation – from avatars and colour apps to virtual models and dressing rooms as well as the creation of transparency in the supply chain through digital interfaces and solutions such as a digital product passport – were also presented by companies such as Circular.fashion, Circulix, Clo Virtual Fashion and Lectra and explained and discussed in depth in numerous presentations.
A fully booked Keyhouse showed the high interest in these topics. Smart textiles, future fabrics, new technologies and digital production processes for the textile chain are presented here on more than 1,000 sqm.
For the summer editions of the fabric fairs, the dates have been adjusted. Find out more here.