14/06/2022 –
Interview with Mimaki
From textile to 3D to 4D printing
textile network met with Hishashi Takeuchi, Managing Director of Mimaki Germany, at the Fespa Global Print Expo to talk about latest developments for the textile market as well as 3D printing.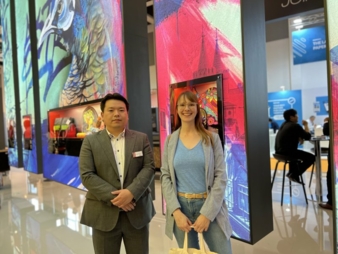 textile network: What innovations is Mimaki presenting here at Fespa for the textile industry?
Hishashi Takeuchi: We have launched some new products such as the TS330 series. The TS 330-1600 is our new technology for the textile market.
textile network: How does it differ from the previous models?
Hishashi Takeuchi: The TS 330-1600 achieves a higher production with 69 m²/h (draft mode, 600x600 dpi, 2 pass). It is much faster than the conventional Mimaki printers, the output speed is 1.3 times faster. It combines high production with high quality.
textile network: Let's speak about 3D printing. To my knowledge, 3D printing is a relatively new market for Mimaki. How do you see things developing in this area? Will Mimaki invest more in it?
Hishashi Takeuchi: Yes, 3D printing is a new technology for Mimaki. It is a challenge for us because the market for 3D is quite big. There is not only the industrial market but also textile for example. Before we launched our 3DUJ-553 printer, Mimaki Engineering was looking for a suitable market. And we finally found one – the miniature and prototyping market.
Detailed colour is our strong point in 3D printing. For our 3D printer we use ink with more than 10 million colours. We combine all parts of high technology in to one machine.
textile network: Are you seeing an increase in demand for 3D printers?
Hishashi Takeuchi: Yes, two years ago in 2020, the 3D market finally realized what the Mimaki 3D printer is all about. Since then we have installed many printers, especially in Germany.
textile network: I would like to go a little further and talk to you about 4D printing. In 4D printing the 3D printed object can transform into different structures being influenced for example by temperature. This new process of printing is still at a relatively early stage. Has Mimaki already dealth with 4D printing for the longrun?
Hishashi Takeuchi: Very interesting. I am not very familiar with the 4D dimensions but to me it sounds possible. There are many chances in printing. For example, ink can be sensitive to the heat or to the cold. It allows for many options. This is a complete new concept for the future, but not yet for the next few years.
textile network: Last but not least, I would like to know from you: What has been your personal highlight at the Fespa show so far?
Hishashi Takeuchi: My personal higlight is the exhibition on its own. I am really glad to see many people at our booth. For Mimaki Germany this is the first big exhibition after the pandemic. I am very proud to show the visitors many new products. Cause this is also one of Mimaki's strong points: We have developed and manufactured new products for the market during Corona, including the textile market.
textile network: Mr. Takeuchi, many thanks for talking to us!
The questions on behalf of textile network were asked Sibylle Michel.