24/07/2020 –
Initial impetus for the restart of business
— auf Deutsch lesen
The industry is relying on Heimtextil 2021
Leading representatives from the home textiles industry view the upcoming Heimtextil (12-15 January 2021) as a decisive for future business activities.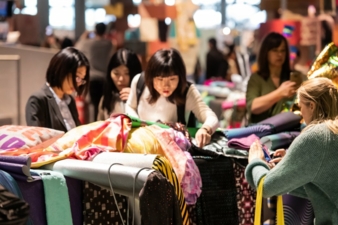 They have also expressed their confidence in Messe Frankfurt's comprehensive protection and hygiene concept. Both trade and industry thus consider the prerequisites for a safe and successful Heimtextil to be met.
Olaf Schmidt, Vice President Textiles & Textile Technologies at Messe Frankfurt:
"Heimtextil 2021 will be different – more concentrated and focused on actual business. And the necessary hygiene precautions will also of course change the look of our trade fair. We consider ourselves all the more lucky that numerous exhibitors and visitors, both national and international, are placing their trust in us by announcing their participation and are counting on Heimtextil to be the first industry highlight after the restart."
Positive signals from the world of politics
Heimtextil is also receiving positive signals from the world of politics, which give rise to hopes for a relaxation and speedy return to successful trade fair operations: at trade fairs, it is now important to ensure that the minimum social distance of 1.5 metres is observed. As a guideline, three square metres of space should be available for each person. This will ensure that Heimtextil can permit all visitors entry to the halls at all times. Since the start of July, travel to the EU from selected third countries has been possible again.
Heimtex, Association of Home Textiles Manufacturers, Germany – Martin Auerbach, CEO:
"The German home textiles industry – as is the case in many other sectors too – is going through a very challenging and stressful time. Not all our members were able to benefit from the catch-up effects in May, which makes it all the more important that the industry has a strong presence at Heimtextil at the start of the year in order to kick-start a strong new year with the international community. We therefore strongly recommend that our association members take part in the international industry meeting."
BTE, Association of German Textile and Bedding Retailers/VDB, Association of Bed Retailers, Germany – Axel Augustin, BTE spokesperson and VDB CEO:
"Since the trade in home and household textiles had to cope with comparatively small losses due to corona, many business owners are hopeful for 2021 and eagerly looking forward to seeing new products at the trade fair."
Bdia, Association of German Interior Architects, Germany – Monika Slomski, Chair, Hesse regional association:
"Even though we discovered the potential of digital meetings during lockdown, nothing beats visiting a trade fair."
El Corte Inglés, Spain – Cristóbal Montero Álvarez, Head of purchasing department for home and household textiles:
"For us, Heimtextil is the most important international meeting place for ordering home and household textiles. Given the increasing demand for furnishing and decoration, we're looking forward to meeting our suppliers again in 2021 and eagerly await the new developments, innovations and trends that the textile industry will come up with."
UKFT, UK Fashion and Textile Association, Großbritannien – Ann Thompson, Textile Consultant:
"All British exhibitors in the UK pavilion in Hall 4.1 have already re-booked their spaces for Heimtextil 2021."
Heimtextil has now published an overview of all participating companies on its website.