07/07/2017 –
Techtextil 2017: Schmitz-Werke
— auf Deutsch lesen
Schmitz-Werke taps into automotive textile market
At Techtextil 2017 in Frankfurt a. M., Schmitz-Werke launched mobiltex their technical textiles brand.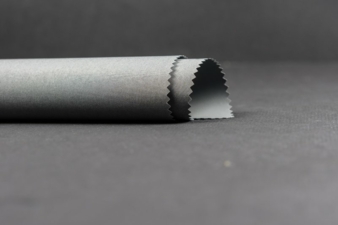 Mobiltex, specialised in furnishings for the automotive, aviation and rail sectors, was the centre of attraction at the booth of Schmitz-Werke since it is a fully integrated "made in Germany" solution provider. As a product highlight, the brand presented a blackout fabric for sunblinds used in the rail industry that is currently unique on the market. It complies with "hazard level 3" (HL3).
"Hazard level 3"
"Techtextil is undoubtedly the port of call for the automotive, aviation and rail industries – we held interesting talks and established contacts here", said Torsten Weißhaar, Sales Manager Automotive at mobiltex.
The new brand received consistently positive feedback from leading manufacturers and suppliers. Schmitz-Werke was already very well known to many visitors due to their established brands – swela and drapilux – and their high-quality products too. The company based in Emsdetten, North Rhine-Westphalia, is regarded as a leader in terms of innovation in the textile industry. From now on, Schmitz-Werke will be able to meet the high demand for technical textiles with their own solution finder. mobiltex provides fabrics made in Germany, which are required for the automotive, commercial vehicle, rail, aviation, industrial and transport sectors. Mechanical and "intelligent" functions as well as protective properties are special features of the high-quality textiles.
Intensive three-year development period
After an intensive three-year development period, mobiltex has made a major advancement in the rail sector with a new blackout fabric. "To the best of our knowledge, we are the first on the market to offer this kind of blackout fabric. It achieves the highest hazard level of the new European fire protection standard EN 45545-2", said Torsten Weißhaar. HL3 products boast lower combustibility and smoke emissions. Hazard level HL3 is considered the highest hazard classification and must be complied with in, for example, trains with sleeping compartments and in those that spend long periods of time travelling through tunnels.
Automotive
There is a focus on long-lasting and easily scalable systems in the automotive industry. We are able to implement trends in colour, shape and material at any time with our market-oriented solutions", assured mobiltex sales manager Torsten Weißhaar.
Aviation
The new brand offers flame-retardant, lightweight textiles in the aviation industry that are able to withstand high air pressure. Here, mobiltex makes use of the experience of its sister brand drapilux (www.drapilux.com). The textile supplier to commercial properties boasts IMO-certified, fire-retardant fabrics, which can be equipped with intelligent functions (air-purifying, antimicrobial and sound-absorbing properties).